Location of Tohoku Gakuin University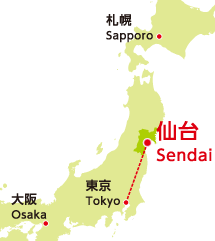 Tohoku Gakuin University (TGU) is situated in the city of Sendai, which is approximately 350 kilometers north of Tokyo(app. 90 min, ride from Tokyo on the Tohoku Shinkansen Bullet Train).
Founded in 1601 by Masamune Date, Sendai is known throughout Japan as "Mori no miyako" or, the "City of Trees." Surrounded by a splendid natural environment that extends from the beech forests of the Ohu Mountains to the Pacific Ocean, the clear and tranquil Hirose River winds through the heart of Sendai, the streets of which are lined with Zelkova trees. There are also many nearby onsen( natural hot springs).
Home of the Tohoku Rakuten Golden Eagles baseball team and the Vegalta Sendai soccer team, Sendai is the political, economic, and cultural center of the Tohoku Region. Sendai, with a population of approximately one million, is a city where you can easily enjoy a metro-politan lifestyle, a variety of outdoor activities, and Japanese culture.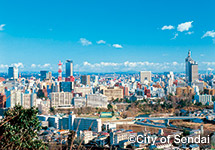 A view of sendai city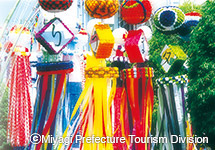 Tanabata Festival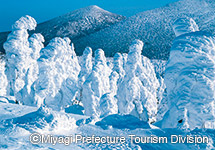 Silver tham(ice coating on the trees)at Mt. Zao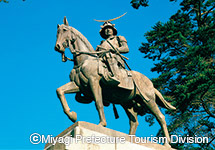 Horse riding statue of Date-Masamune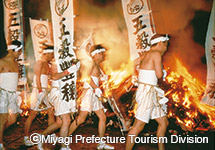 Dontosai Festival
Matsushima - considered one of the 3 most scenic spots in Japan