1,000 cranes have flown 6,000 miles to deliver messages of hope to TGU
04.07.2011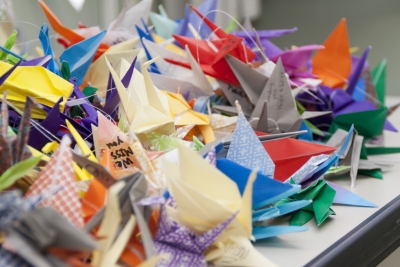 1000 origami cranes were folded as part of a fundraising campaign organized by the Asian Cultural Society (ACS) at Franklin and Marshall (F&M) College(*), sister school to TGU. As part of the project, F&M students and faculty, as well as local residents were encouraged to buy a sheet of paper for $1, fold it into a paper crane and write a message of hope for TGU. Further information about the campaign is available on the F&M website.
The 1,000 cranes were placed on display during a roundtable discussion between TGU students and the American Ambassador, John V. Roos, during a recent visit to our campus on June 27th.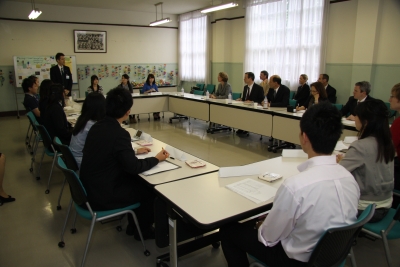 The cranes will also be displayed during the Sendai "Tanabata" festival between August 6th and the 8th in the public plaza of Koutoudaikouen. It is our hope they will be viewed by both local residents and visitors and serve as a symbol of hope and prayer for a speedy recovery from the recent disaster.
Over 1,000 dollars was raised from this 1,000 cranes project and donated along with additional F&M college funds totaling 15,000 dollars. The donated funds will serve as aid to assist TGU students participating in this summer's American Studies Program at F&M College.