Sister School in Germany offers donation in wake of Great East Japan Earthquake
26.07.2011
On July 7th, Tohoku Gakuin University received a donation of 6,300 euro (720,000 yen) from our sister school, Rhine Main University. Natalie Hostalek(shown in the photo to the right), a Rhine Main University who participant in the 2009 Japan Fall Study Program at Tohoku Gakuin University, apparently played a key role in organizing the fundraising event. Tohoku Gakuin University and Rhine Main University signed an agreement of educational cooperation 1999 and since that time, 34 Rhine Main students have studied at Tohoku Gakuin University as part of this agreement. We are told that many of these students participated in the fundraising efforts as a way to repay the kindness they received while studying at TGU here in Sendai.

Hochschule Rhine Main:http://www.hs-rm.de/
News:http://www.hs-rm.de/de/hochschule/startseite/meldungsdetails/article/1196-spendenuebergabe-fuer-sendai/nocache.html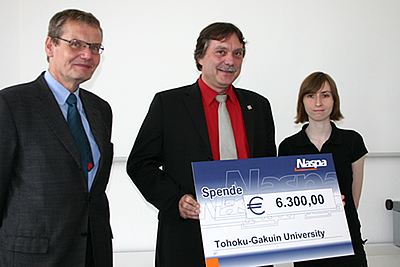 Message from Ms. Natalie Hostalek
For many years, Hochschule RheinMain and Tōhoku Gakuin Daigaku have had a successful partnership. The students from Wiesbaden fondly remember the wonderful time in Sendai.

It was a big shock for us to hear about the earthquake and tsunami that hit Japan in March 2011. For us it was clear that we needed to help our partner university during these hard times.
Therefore, I asked Prof. Dr. Andreas Lenel if we could organize something to support the university and the people in Sendai. He and Prof. Dr. Detlev Reymann, president of the university - who personally took care of the project from then on - were excited about this idea immediately.

We started a university-wide donation fund that was promoted through our website, as well as through other media like facebook and our newsletter. The donation program was closed successfully with a special event at the cafeteria. Japanese food was served and all earnings of day were donated as well. Overall 6300€ were collected with donations reaching from 1€ up to 500€. The project was well received by everybody- students, professors, the university and others. There was also an article in the local newspaper of Wiesbaden, as well as on the university's website about the success of the project.

The donation initiative serves not only as a financial support, but also as 友好の象徴 - a symbol for a long lasting friendship and that we care about the people in Sendai. After many years of generosity and support by the Tōhoku Gakuin Daigaku, the students and the guest-families, we would like to give something back and say "どうもありがとうございます".

We hope Sendai and the university will recover soon: 頑張って下さい and 幸あれ!